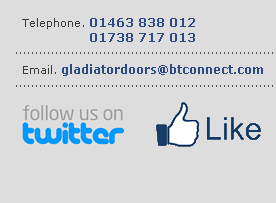 Sectional Doors - Technical Information






In line with the founder's philosophy, the Hörmann brand today is a true promise of quality. This family-owned company has over 50 years of experience in door construction and, with sales of approx. 13 million doors, is the market leader and no. 1 in Europe. This makes a Hörmann sectional door a really reassuring purchase.
Hörmann doors and operators are thoroughly adapted to each other and tested and certified by independent, recognized institutes to ensure your safety. They are produced in accordance with the quality management system DIN ISO 9001 and fulfill all the requirements of European standard 13241-1.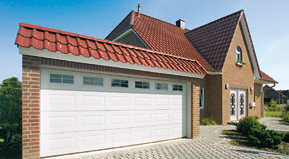 Thanks to excellent technical solutions and uncompromising quality assurance, you receive a 10 year warranty on all sectional doors and 5 years on all Hörmann operators.
Hörmann uses environmentally-friendly processes throughout its manufacturing chain, from foaming with 100% CFC-free rigid PU foam to colour coating of the doors. A high-tech regenerative exhaust air decontamination system substantially reduces energy requirements.
There are many details that set a sectional door apart. All in all, you will enjoy the practical advantages every day: You can conveniently drive into your garage and have more space inside and in front of the garage. Treat yourself to this comfort and convenience.
• Space-saving
Sectional doors open vertically upwards and are suspended under the ceiling to save space. This constructional principle means you can make full use of the space inside and in front of the garage for parking.

• Variable fitting
The shape of the garage opening is not of prime importance. Whether square, angled, with segmental or full centred arch, a Hörmann sectional door always gives a perfect fit.

• Wider passage
The additional passage width makes it easier to drive in and out of the garage. This is a decisive advantage for large cars, vans and off-road vehicles.

• Sealed all-round
Flexible and weather-resistant seals on all four sides of Hörmann's sectional doors keep out the wind and rain. Thanks to its large-sized profile lip, the bottom seal can easily accommodate slight irregularities in the floor.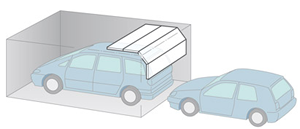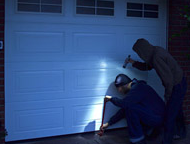 Hörmann automatic sectional doors have been tested and certified by TÜV in accordance with the TTZ directive "Break-in resistant garage doors".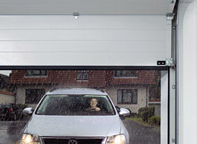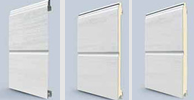 Automatically More Convenience
With garage doors and operators from Hörmann
You will feel it the first time you drive after dark or in nasty weather into your garage without having to get out and open the door: The decision for more convenience and safety was exactly right. Experience this and many other advantages, such as the automatic door latching only offered by Hörmann.
Modernise with inexpensive and available standard sizes
Hörmann has many standard sizes that are exactly adapted to the up-and-over door to be replaced. These standard sizes will truly save you money and get you using your new automatic sectional door faster. Most of Hörmann's modernisation sizes are available directly from the warehouse. And for the very rare case where a special size is needed, Hörmann can, of course, supply you with it at an attractive price.
Three panel thicknesses, one high level of quality
Hörmann's steel sectional doors come in three panel thicknesses, so one is certain to fit your individual requirements.
• Single-skinned LTE doors are our least expensive version and are ideal for free-standing garages that do not need any thermal insulation.

• Double-skinned EPU doors provide excellent thermal Insulation and are the right choice if your garage adjoins the house or affords access to it.

• Double-skinned LPU doors
offer the best-possible insulation. Particularly recommended if you also use your garage as a hobby room or would like to lower your energy costs. Moreover, the 42 mm thick sections give the door greater stability and make for quiet operation.
Three attractive surface finishes with many colour options
For steel doors you have a choice of three attractive, weather-proof surface finishes: Woodgrain, Silkgrain® or Micrograin®. The surfaces are perfectly protected against rust. Rain runs off without leaving any streaky marks and the grey haze brought about when timber is exposed to the environment is largely prevented. Hörmann steel sectional doors and side doors with Woodgrain, Silkgrain® and Micrograin® surface finishes are available as standard in inexpensive Traffic white, in 15 equally-priced preferred colours as well as in about 200 colours based on RAL.
Six decor surfaces for a harmonious door design
The Decograin® surface finish is available in five timber decor variants: Light Oak, Golden Oak, Dark Oak, Night Oak, Rosewood and the elegant Titan Metallic. This decor surface in dark anthracite is a very good match for Hörmann entrance doors that come in colour CH 703.
The Designs -
A Timeless Appearance

Slim ribbing

Slim, horizontal ribbing is the classic design for garage doors. Hörmann provides you with this S ribbing in a premium quality. Visible proof of this: An absolutely uniform ribbing appearance. In contrast to the competition, the spacing between the ribbings is always uniform in Hörmann doors.
A homogeneous overall appearance thanks to precise, high-quality manufacturing with barely visible transitions between the sections. It pays to compare!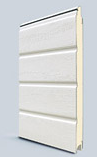 Straightforward and Convincing
Medium ribbing
M ribbing doors offer a matchless multitude of possible types. Their clear lines make them particularly ideal for modern architecture. Different colours and surface finishes help to emphasise the overall impression of your home.
The Decograin® surfaces with timber décor combine the advantages of a steel door with a natural timber look.
Perfect Elegance
Large ribbing
A special door for a special home. L ribbing emphasises the unique elegance of unusual architecture. Of course, it also includes all of the convenience and security features of a Hörmann sectional door.
Everything Is Possible
Narrow panels
There is a panel design to fit almost any building style. Hörmann's S panel offers many surface finishes and colour options. You are guaranteed to find the rightdoor that fits your home perfectly
Classic Beauty
Medium panels
A larger panel is recommended if you have a wider door. M panels look especially beautiful on double garage doors. Thanks to their timeless beauty, they look prestigious on both old and new constructions